A Match Between Privacy & Protection
Mobile Detailing | Auto Protection | Dealership Detailing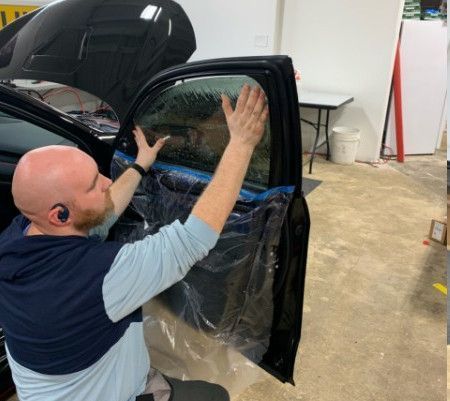 EXPERIENCE THE BEST AUTO TINTING
Nathan's is an expert in professional car tint services. We offer full service vehicle window tinting with various options to fit your needs. We only offer the most well-respected brand of standard and ceramic tint film, 3M!
Our team has a wealth of knowledge and experience, we have installed high-quality film with flawless results countless times. We serve customers from Cleveland and the surrounding areas of northeastern Ohio.
KEY BENEFITS TO AUTO TINTING
One of the immediate benefits of 3M vehicle window tint is the increased comfort by rejecting the sun's heat, reducing the interior temperature.
Other benefits include glare reduction, privacy, appearance and safety. Nathan's carries 3M Color Stable film and 3M Ceramic Film  We carry many different shades of film. Some 3M window films can be very dark. Other films can be nearly invisible, while still blocking all the u.v. rays and the majority of the heat.
3M Obsidian Series
(Lifetime Color Guarantee)
Pricing (includes material and labor) PLUS TAX
Vehicles with 2 windows $169
Vehicles with 5 windows $299
Vehicles with 7 windows $399
6" Sunstrip at top of windshield $79
Full Windshield $169
Standard Sunroof $99
3M™ Automotive Window Film Obsidian Series
Hot looks outside, cool and private inside. The Obsidian Series delivers strong performance at an affordable price.

Contains 3M patented infused technology which helps prevent purpling and improved durability

Rejects up to 44% of the total solar energy coming through your windows to keep you cool and protect you from harmful UV rays.

Blocks up to 99% of ultraviolet (UV) light to provide a Total Sun Protection Factor (SPF) of up to 1000 for you and your passengers.

Non -metallized window film lets you stay connected with mobile devices, GPS or satellite radio reception without interference.

Available in different tint levels that block up to 92% of visible light, providing increased privacy and to protect your valuables.

Reduces up to 91% of the glare from blinding sunlight, allowing you to see better and concentrate more on driving.

Sold and installed by 3M™ Authorized Dealer Installers, our films are durable, virtually maintenance-free and backed by a limited lifetime warranty
Performance, value, longevity.