Safeguarding the 2022 Cadillac CT4-V Blackwing with XPEL Ultimate Plus
When it comes to luxury and performance, the 2022 Cadillac CT4-V Blackwing stands out as a remarkable vehicle. With its powerful engine, sleek design, and cutting-edge features, this car appeals to automotive enthusiasts seeking an exhilarating driving experience. However, owning such a high-performance vehicle also means taking the necessary steps to protect its beauty and integrity. In this blog post, we will delve into the importance of installing XPEL Ultimate Plus paint protection film to preserve the stunning aesthetics of the Cadillac CT4-V Blackwing.
The Allure of the 2022 Cadillac CT4-V Blackwing
Before we delve into the significance of paint protection film, let's take a moment to appreciate the remarkable qualities of the 2022 Cadillac CT4-V Blackwing. As the top-tier performance variant of the CT4 lineup, this Blackwing model embodies luxury, speed, and precision.
Under the hood, you'll find a formidable 3.6-liter twin-turbocharged V6 engine, producing a staggering 472 horsepower. Mated to a standard six-speed manual transmission or an available ten-speed automatic, the CT4-V Blackwing promises an adrenaline-fueled driving experience like no other. The car's precise handling, adaptive suspension, and magnetic ride control system further enhance its performance capabilities.
Beyond its exhilarating performance, the CT4-V Blackwing showcases an attention-grabbing exterior design. With its aggressive stance, aerodynamic enhancements, and distinctive grille, the Blackwing exudes an aura of sportiness and sophistication. This specific CT4-V was finished in the stunning "Electric Blue" color from Cadillac introduced to the CT4 and CT5 in 2022.. The interior is equally impressive, boasting premium materials, advanced technology, and comfortable seating to provide both elegance and comfort during your drives.
Preserving the Flawless Finish
As a proud owner of the Cadillac CT4-V Blackwing, you would want to maintain the showroom shine and protect the impeccable paintwork of your prized possession. That's where XPEL Ultimate Plus paint protection film steps in to offer unparalleled safeguarding.
XPEL Ultimate Plus is a self-healing, clear film that acts as a sacrificial layer over your vehicle's paintwork. It offers a high level of protection against common hazards such as rock chips, scratches, swirling, bug splatters, road debris, bird droppings, and even harmful UV rays. By applying this virtually invisible shield, you can maintain the original beauty of your Cadillac CT4-V Blackwing without compromising its appearance.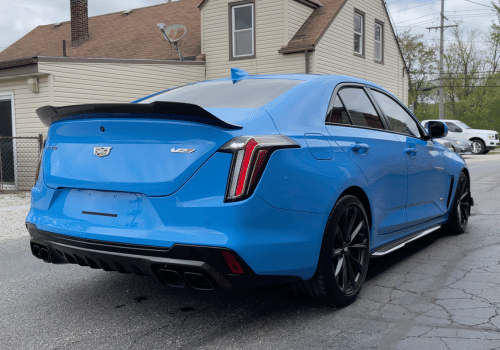 Advantages of XPEL Ultimate Plus:
Seamless Protection: XPEL Ultimate Plus is expertly installed by professionals, ensuring a seamless finish that is nearly invisible to the naked eye. This film covers vulnerable areas such as the hood, fenders, mirrors, and front bumper, shielding them from damage caused by everyday driving hazards.
Self-Healing Technology: The self-healing properties of XPEL Ultimate Plus make it a game-changer in paint protection. Minor scratches and swirl marks that occur during regular use will magically disappear with the application of heat, restoring the film's flawless finish.
Preserves Resale Value: By investing in paint protection film, you're not only safeguarding your Cadillac CT4-V Blackwing from damage but also preserving its resale value. The film protects the original paintwork, ensuring it remains in pristine condition, which is highly valued by potential buyers in the future.
Easy Maintenance: XPEL Ultimate Plus is resistant to stains and discoloration, making it easy to clean and maintain. Regular washing and waxing will keep your CT4-V Blackwing looking fresh, while the film takes the brunt of the wear and tear.
2022 Cadillac CT4-V Blackwing: Final Thoughts
The 2022 Cadillac CT4-V Blackwing is an extraordinary vehicle that demands the utmost care and attention. Installing XPEL Ultimate Plus paint protection film is a wise investment that will keep your Blackwing looking flawless, allowing you to fully enjoy the thrill of ownership without worrying about the impact of daily driving hazards.
With XPEL Ultimate Plus, you can revel in the CT4-V Blackwing's breathtaking performance and head-turning aesthetics, knowing that your vehicle is shielded from scratches, stone chips, and other elements that could mar its beautiful finish. Embrace the confidence that comes with preserving the pristine condition of your Cadillac, and let XPEL Ultimate Plus take your ownership experience to new heights.