Audi RS3 | How Does it Compare to the S4?
Audi RS3 vs Audi S4
Are you in the market for a luxury car that offers the perfect balance of power and performance? Look no further than the Audi RS3 and Audi S4. Both of these vehicles are part of Audi's high-performance lineup and offer drivers a thrilling driving experience. But which one is right for you? Let's take a look at how the Audi RS3 and the Audi S4 compare.
For starters, the Audi RS3 is a compact four-door sedan that packs a powerful punch. It is powered by a turbocharged 2.5-liter five-cylinder engine that produces 400 horsepower and 354 lb-ft of torque. This engine can propel the RS3 from 0-60 mph in just 4.1 seconds and all the way up to a top speed of 155mph. The RS3 also has a sport-tuned suspension, a seven-speed dual-clutch transmission, and quattro all-wheel drive.
In contrast, the Audi S4 is a midsize sedan that is powered by a 3.0-liter turbocharged V6 engine. This engine produces 355 horsepower and 369 lb-ft of torque, allowing the S4 to sprint from 0-60 mph in 4.7 seconds and reach a top speed of 130mph. The S4 also comes with an eight-speed automatic transmission, quattro all-wheel drive, and a sport-tuned suspension.
When it comes to performance, the Audi RS3 is the clear winner. Not only is it faster and more powerful, but it also offers better acceleration and top speed. However, the S4 is the more comfortable and luxurious option, thanks to its spacious interior and higher-end features.
Ultimately, the choice between the Audi RS3 and the Audi S4 comes down to personal preference. If you're looking for a car that will give you the ultimate driving experience, then the RS3 is the way to go. But if you're looking for something a bit more comfortable and luxurious, then the S4 may be the better choice.
Paint Protection for Your Audi RS3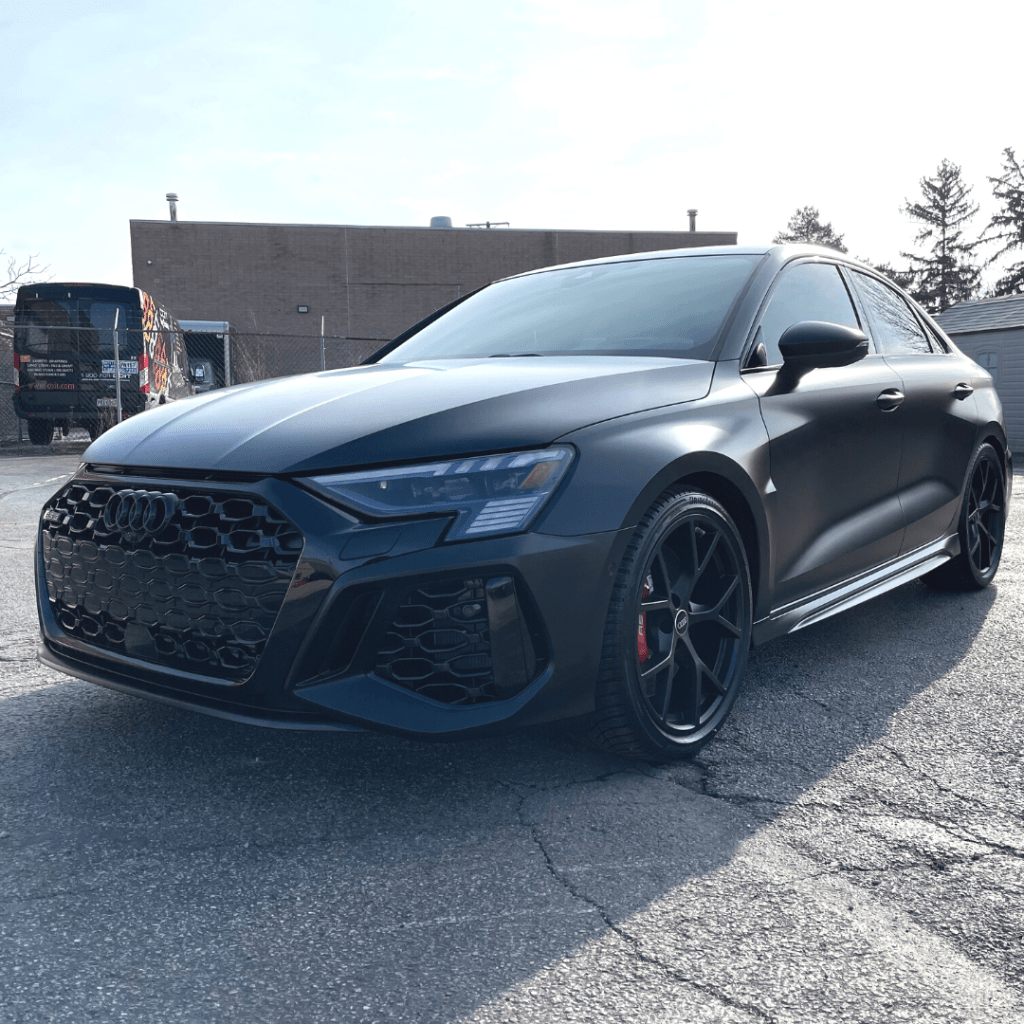 The Audi RS3 is an impressive piece of engineering, and it deserves the best protection. Investing in a Paint Protection Film (PPF) will help protect your Audi RS3 from the harshest elements, keeping it looking like new for years to come. The PPF forms a strong barrier against scratches and chips, as well as providing protection against UV rays that can damage the paint over time. If the film does end up getting scratches or swirls in it, when placed in heat, the film will actually heal itself! The PPF also helps maintain the glossy finish of the paint and makes it easier to clean. Additionally, it's a great way to increase the resale value of your car. Investing in a PPF for your Audi RS3 is a smart move to ensure your car looks great for years to come.
In addition to PPF, we also applied ceramic coating to the exterior of this Audi to give it ultimate protection. Ceramic coating adds hydrophobic qualities to the car as well as an additional layer of light protection, ease of maintenance, and improved scratch resistance.
Get a Free Quote Today!
Even if you're not driving an Audi RS3 or S4 but would like to PPF or ceramic coat your car, feel free to reach out today for a free quote from Nathan's Detailing!
Call (216) 973-4944, email us at protection@nathansdetailing.com, or fill out quote request form today!