Paint Protection Film for Cars | Kia Stinger
The Kia Stinger is cool. I don't think any one of us on staff here would deny that. It's a surprisingly sharp and fun sports sedan. Not only is the car pretty eye-catching and fun, but it also scratches that itch that many car enthusiasts have: a sports car for when you're on a budget.
When you've got a cool, attractive, sports sedan like the Kia Stinger, you're going to want to protect it. Whether or not you drive your cars "hard" doesn't really matter; stones and rock chips will always find a way to prove themselves as a hindrance for you. But no worries! You can do what the owner of this car did and have XPEL Ultimate Plus paint protection film installed!
2022 Kia Stinger: Let's Talk Specs
The Kia Stinger comes in 3 models: GT-Line, GT1, and GT2. The 2022 base model offers up a 300-hp turbocharged 2.5-liter four-cylinder with the GT1 and the GT2 boasting a 368-hp twin-turbo V-6 engine for those looking for a bit more power. The car is home to an 8-speed automatic transmission providing an easy driving experience that is still enjoyable for those who may prefer the grit of manual drive.
The GT-Line sees 22 mpg city/32 highway where the other two models (powered by the V-6 engine) see 17 city/24 highway. As a sedan, the Kia Stinger offers more trunk space than other enthusiast-friendly sports cars as well as having exceptionally comfortable seating! With just about every driver-assist program you can think of, the Stinger also is quite the safe ride, as well.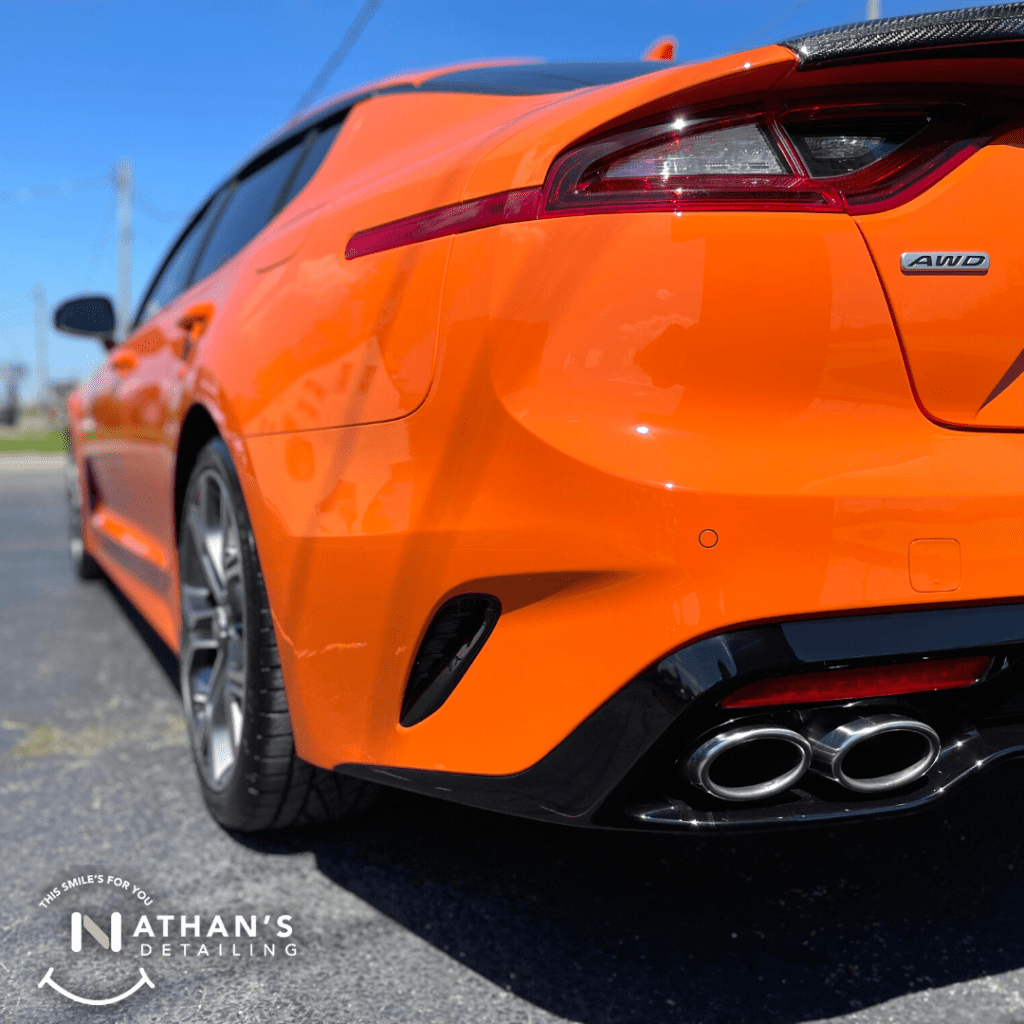 XPEL Ultimate Plus PPF Paint Protection Film
Paint Protection Film (PPF – or sometimes referred to as "clear bra") is an essential component of paint protection for your car. XPEL is an industry leader in automotive protection aspiring for quality and innovation in all they do. This Kia Stinger was treated with XPEL Ultimate Plus paint protection film to make sure that it is as protected as it can be.
XPEL Ultimate Plus is a clear film applied directly to the exterior of the car's paint and will guard the paint from rock chips, light scratches, and other hindrances from the outside world. Additionally, the film itself is self healing; XPEL PPF, when in the heat, can heal itself of minor scratches and swirls! Additionally, XPEL Ultimate Plus PPF is practically undetectable by the eye when installed properly. Our technicians here at Nathan's are experts in the field of paint protection and are certified XPEL installers.
References
https://www.caranddriver.com/kia/stinger
https://www.xpel.com/products/paint-protection-film/ultimate-plus