My Corvette is Best Corvette because XPEL PPF
My Corvette is best Corvette because XPEL PPF and Ceramic Coating!
There's no denying the fact that if you own a Corvette Stingray, you'll be proud of it. Corvette owners will know the sense of pride that comes with owning a Corvette regardless of if it is 10, 20, 30, or 40 years old. A great friend of mine has been daily driving his Corvette C5 with a Lingenfelter 383 stoke motor for years and says, "If that car is ever for sale, please offer me a place to live because it likely means things are that bad." Needless to say, Corvette owner's are passionate and proud (rightfully so) of their wonderful cars.
With this in mind, if you fall into that category of Corvette owners who absolutely loves their car (which is all Corvette owners), why would you not want to protect it to the best of your ability? One of the best things you can do to protect your Corvette is install PPF/Clear Bra and ceramic coating.
2021 Corvette Stingray
With an affordable price and a 490-hp V-8 engine, this C8 Corvette is truly a great mid-engine car. The car boasts a roomy and comfortable interior, options for a coupe and convertible, and large trunks in the rear and front. This particular Corvette we had in the shop is in "Accelerate Yellow," a very rare color for the 2021 Corvette. The car sees around 15 mpg in the city and 27 mpg on the highway. Updated for the 2021 model, this car now has Apple Car Play and Android Auto for the enjoyment and ease of the driver.
Here at Nathan's Detailing, we recognize how special your car is to you and we want to treat it with nothing but the utmost care. That's why we're proud to offer the best of the best in automotive paint protection: XPEL.
Corvette PPF | XPEL Ultimate Plus
Well let's start off by talking about PPF (Paint Protection Film) or, as it's sometimes called, clear bra.
XPEL Ultimate Plus is a transparent film that is applied to the exterior of your Corvette designed to help protect its paint. This practically undetectable film protects your Corvette from rock chips, tree sap, and other contaminants. Additionally, the film possess self-healing qualities. If you've got minor scratches and swirls in the film, just leave your car outside for a little while and you should see those blemishes disappear!
PPF is an integral part to Corvette paint protection. XPEL is an innovative industry leader in automotive protection and we're proud to offer their products at Nathan's.
Corvette Ceramic Coating | XPEL Fusion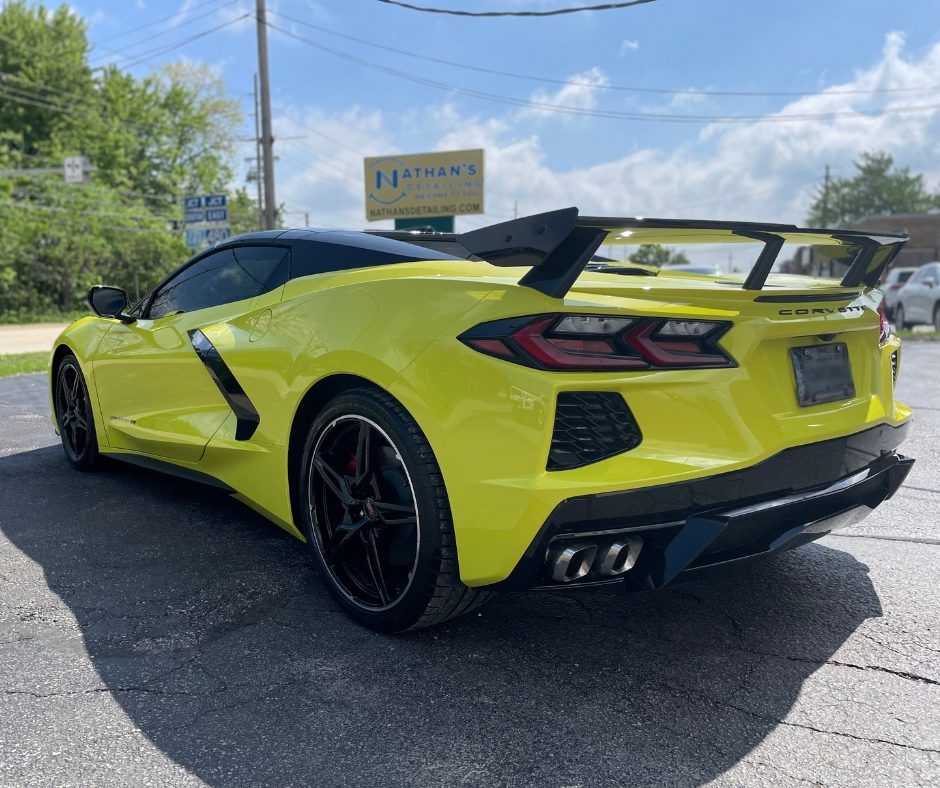 While PPF is definitely going to help protect your Corvette against a good deal of potential damage, there's still an additional step you can take to help step up the protection game. Allow us to introduce to you, XPEL Fusion Plus ceramic coating.
Bonding at the molecular level to your car's exterior, XPEL Fusion Plus ceramic coating helps protect your car against UV rays, bug acid, and other hindrances the outside world may throw at it. The coating will resist against light scratches as well as significantly reduce paint fade. XPEL ceramic coating possess what's known as "hydrophobic" qualities. This means that it will repel dirt and other liquids ensuring that your car is as easy to clean as it can be.
With ceramic coating, you can say goodbye to the days of constant washing and waxing.
Special Thanks
Special thanks to Scott and Lisa Harper for letting us take some photos, shoot some content, and write up a blog post about their gorgeous Corvette!
References