Porsche 911 Turbo | Porsche PPF | XPEL Ceramic Coating
Porsche PPF, Porsche Ceramic Coating, Porsche Tint
Here at Nathan's Detailing, we absolutely love Porsches. Well, I mean, who doesn't love Porsches? From the 901, to the 996, to the 992, to the Cayenne, to the innovative electric Taycan, we admire everything about the iconic car brand. We love seeing them roll into our driveway, sitting in our shop, and pulling back out on the road looking better than ever.
A few weeks back, we had the pleasure of getting a brand new 2022 Porsche 911 Turbo come into the shop for some XPEL Prime Window Tint, XPEL Ultimate Plus PPF, and XPEL Fusion Plus Ceramic Coating. If you just picked up a new (or used!) Porsche in the Cleveland/Akron area and are looking for the absolute best in Porsche paint protection, you can't go wrong with Nathan's Protection Division's team. All of our technicians are XPEL certified and will provide you with the absolute best paint protection around.
The Ultimate Sports Car: Porsche 911 Turbo
The Turbo's twin-turbo 3.7-liter flat-six delivers 573 horsepower and boasts an incredible 0-60 mph speed of around 2.6 seconds! The 8-speed dual-clutch automatic has been recognized for it's impressive, industry leading performance. The cabin is quite comfortable for a sports car with controls that are easy to reach and offering a decent amount of space up front.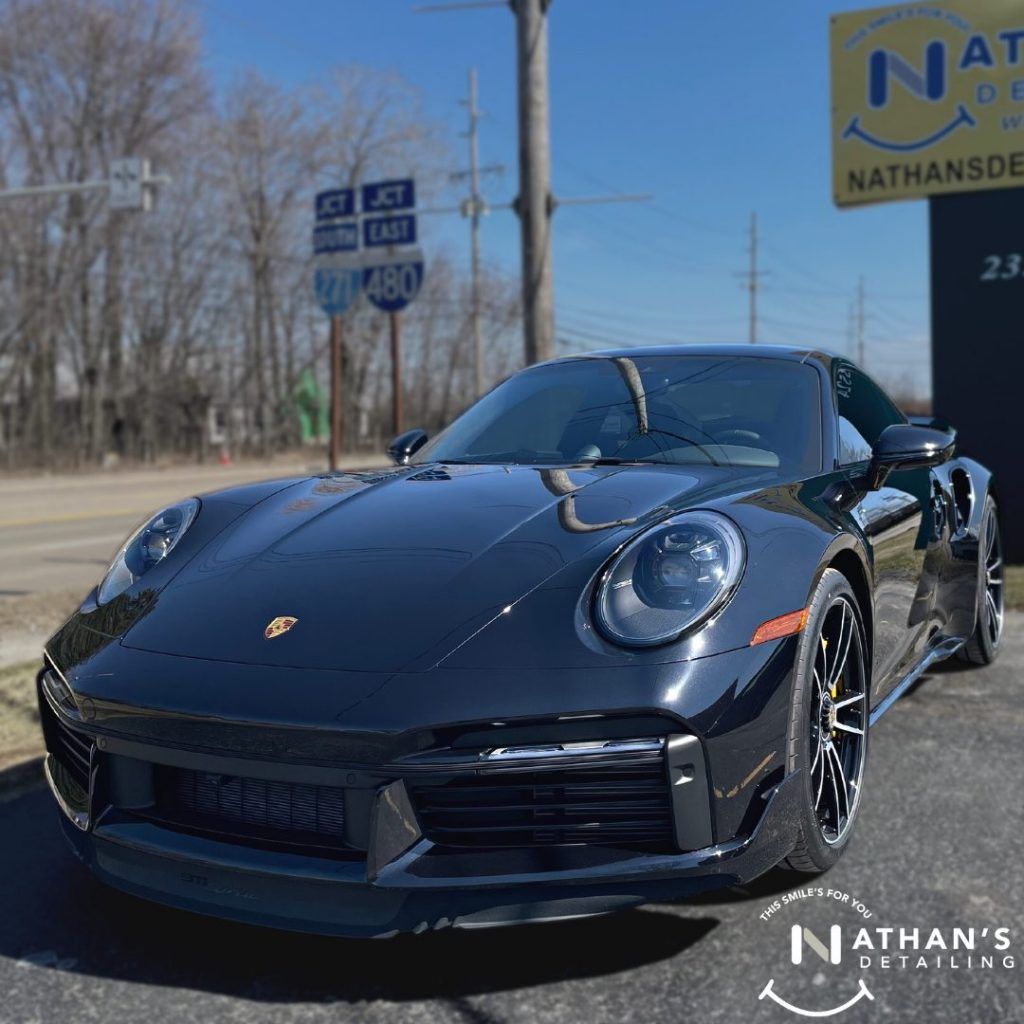 XPEL Ultimate Plus | XPEL PPF
Paint Protection Film (PPF – or sometimes referred to as "clear bra") is an essential component of paint protection for your car. We realize the importance of protecting a car's exterior which is why here at Nathan's Detailing, we offer only the best in PPF. XPEL is an industry leader in automotive protection aspiring for quality and innovation in all they do. We treated this 911 Turbo with XPEL Ultimate Plus paint protection film to make sure that it is as protected as it can be.
XPEL Ultimate Plus is a clear film applied directly to the exterior of the car's paint and will guard the paint from rock chips, tree sap, light scratches, and other things the roads may throw at it. Additionally, the film itself is self healing. What does that mean? XPEL PPF, when in the heat, can heal itself of minor scratches and swirls.
Maybe you're worried the film will be obvious when it's applied? Don't worry. XPEL PPF is practically unable to be detected by the human eye when properly installed. Our technicians here at Nathan's are experts in the field of paint protection and are certified XPEL installers.
XPEL Fusion Plus | XPEL Ceramic Coating
Bonding at the molecular level of your car's exterior, XPEL Fusion Plus ceramic coating helps guard your car against UV rays, bug acid, and other potential environmental contaminants. Additionally, the coating will resist against light scratches and fading of the paint. XPEL ceramic coating possess "hydrophobic" qualities meaning that it will repel dirt and other liquids ensuring that your car is as easy to clean as it can be.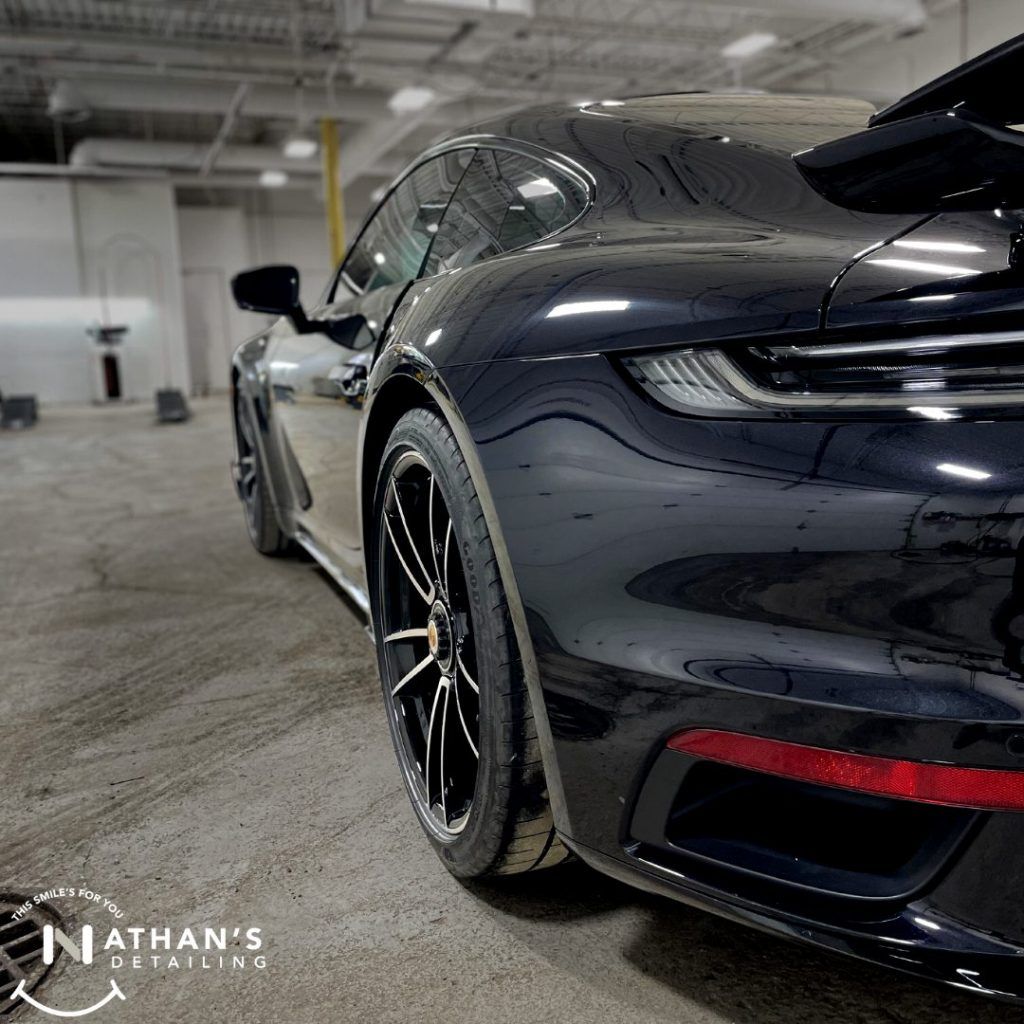 XPEL ceramic coating can be applied to paint & PPF, plastic & trim, glass, and wheels & calipers. On each of these surfaces, the coating will protect and help increase the depth of the colors of your car.
XPEL Prime | XPEL Window Tint
This Porsche 911 Turbo received XPEL Prime XR Window Tint. Window tint will help to ensure the privacy of the interior of your vehicle, reduce heat, cut out glare, and protect the interior, passengers, and contents of the car from potential harmful UV rays. XPEL Prime XR contains nano ceramic particles as well which makes it more effective than other films. We offer window tint in a variety of percentages to choose from.
Get Porsche Paint Protection Today!
If you'd like to learn more about our paint protection services, visit our contact page: https://nathansdetailing.com/contact/
References